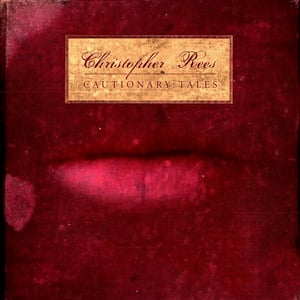 £

7.99 - On Sale
Christopher Rees' third album 'Cautionary Tales'.
"Just think twice before you kiss, she may be a mentalist!"(A Cautionary Tale)
Following the epic orchestral intensity of his 2004 debut The Sweetest Ache, "Seriously amazing stuff" (NME) and the rustic warmth of 2005's Alone On A Mountain Top, "Deliciously raw and spellbinding…A wonderful homespun triumph" (MOJO), Cautionary Tales combines the string-laden sophistication of the first with the intimate, rootsy qualities of the second to stunning effect.
The surprise success of Alone On A Mountain Top, which charmed and won audiences around the world from Cardiff to Canada and New York to New Zealand, has honed Rees' skills as a live performer and song writer. Touring extensively with kindred spirits William Elliott Whitmore, Willard Grant Conspiracy, Freakwater, The Deadstring Brothers and Kelly Joe Phelps amongst others has also empowered him on stage and in the studio.
Once again recorded and produced by Rees himself, mostly in an isolated mid Wales mountain retreat, Cautionary Tales is culled from a prolific list of over forty songs. The result is an inspiring showcase of the diverse depths of his impassioned song writing, spanning everything from soulful country and banjo driven Appalachian folk to raucous delta blues/rock and sublime string-soaked ballads.
Sharing the microphone for the very first time with an illustrious cast of guest singers, Cautionary Tales features a rare appearance from much-loved American heroine Victoria Williams who contributes her inimitable charms to the duet Bottom Dollar, while Belgian siren Charline Rose (Calexico, Giant Sand) exudes 'that' breathy French sensuality on closing track Until Love Comes Around Again. Becky Newman (The Hot Puppies) also provides a significant and seductive female presence on several songs including the jaw-dropping murder ballad Mary Lee.
For an artist who has already been highly acclaimed for ploughing his own unflinching furrow through matters of the heart with devastating beauty, Cautionary Tales is by far Rees' most comprehensive and cohesive collection of songs yet. As the title suggests it's a record filled with well-lived tales of life, love and death as he traverses a gamut of emotions and human behaviour.
Each of the seven deadly sins is illustrated in the beautiful 16-page booklet and addressed in song. Opening track Bucket Full Of Holes tackles gluttony and the perils of promiscuity, How Did You Sleep Last Night rages with envy, It Won't Come Easy deals with sloth, A Cautionary Tale - dangerous blind lust, Mary Lee - anger, A Sinner's Serenade - greed and Don't Let Your Heart Grow Cold - defiant pride.
You could call Cautionary Tales a twisted love album but that would be to miss many of the subtleties at play in this lyrical tour-de-force. For as much as Rees explores sin he also touches upon love's redeeming virtues of faith, hope and charity with equal poignancy, and takes the listener on a revealing journey through a heart that is bruised but unbeaten, brutal yet beautiful and as world-weary as it is wilful. Sometimes contradictions make perfect sense.
What the critics said about...
'CAUNTIONARY TALES'
"From the first backwater banjo intro, it's a genuinely roots affair that moves through songs of death and danger to wonderfully tender and totally melodic ballads that seems to hang on the most fragile of backdrops. A release that reveals more of itself each time it is reprised Cautionary Tales deserves to be admired".
Fred Dellar (MOJO)
"Some of the best songs he's recorded to date. Rees has a voice that brims with powerful emotions, and when combined with soft petal-like tones of Victoria Williams (Bottom Dollar) or the sweet chimes of the Hot Puppies' Becky Newman (Mary Lee, It Won't Come Easy) it's like Rufus and Martha Wainwright have converted to the church of country blues".
(MAVERICK)
"Predominantly a country blues record, Rees hasn't stuck rigidly to the formula but instead let his songs call the tune. 'Bottom Dollar' cried out for lush Stax horns and a swelling string section. The song is a luxuriously emotional tour de force that further boasts duet vocals with none other than American country legend Victoria Williams. Passion and conviction for all his subjects is the stock in trade for this intimate writer and whether we learn by his mistakes or not, Cautionary Tales is a rich experience.".
(DROWNED IN SOUND)
"Wales wouldn't be the first place you would look for a banjo-playing, story-telling troubadour whose brand of Americana sits somewhere between the backwoods debauchery of Willard Grant Conspiracy and the vocal confidences and melodic understanding of Ryan Adams. You haven't looked hard enough then have you? Rees has delivered a mighty fine record. There is a bit of everything here for the discerning roots fan - the stark, brutal banjo led balladry of "Bucket Full Of Holes"; the catchy, Whiskeytown-esque "Bottom Dollar"(featuring Victoria Williams); the dark hillbilly grind of "Cautionary Tale; and the storytelling prowess of vintage Violent Femmes on "Mary Lee". Overall Cautionary Tales is a excellent offering from a musician who I am sure will be breaking through in a major way sometime soon.".
(AMERICANA UK)
"Rees has a fine voice as well as being a very able guitarist and banjo player. Listen to the lyrics, they make interesting sense. An enjoyable set of songs from an extremely talented young man".
(BLUES MATTERS)
"This time he's taken his heavenly voice in to (very) mellow slowcore Americana and flirting with country banjos and (very) mellow guilt infested bluegrass and gospel and melancholy (cold) heartbreak and the seven deadly sings (through a pin hole camera). Torch songs and duets with sirens and sublime jazzy blues and empty beds. Soulful country and restrained banjo driven Appalachian folk and sinking in to shades of blue and Nick Cave and Tindersticks and Michael J Sheehy and Willard Grant Conspiracy and buckets with holes and comfort from the kindness of strangers. He made another fine and rather beautiful album, he keeps doing it".".
(ORGAN MAGAZINE)