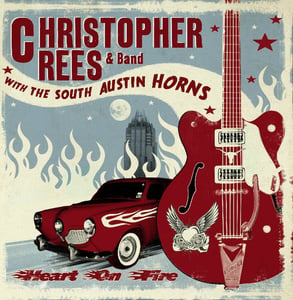 £

9.99 - On Sale
Artist : Chrsitopher Rees (with The South Austin Horns)
Title : Heart On Fire
Release Date : 9th MAY 2011
Label : Red Eye Music
"I love this record. I think it's absolutely terrific".
(Bob Harris - BBC Radio 2)
"Fine old-school country soul...The South Austin Horns provide shades of Muscle Shoals". (UNCUT)
"A soul-drenched album that smacks of the vintage Stax". (Maverick)
Davy Crockett once famously said, "You may all go to hell, and I will go to Texas". Well, the motivation may have been somewhat different but that's exactly what Welshman Christopher Rees did for his fifth album, 'Heart On Fire'. With a bag full of songs that called out for an authentic American horn section Rees went to Austin, Texas to record with 'The South Austin Horns'. The result is a wonderful transatlantic collaboration that sparks and smoulders with warmth and soul.
The plan was hatched a year earlier after one of Rees' performances at the SXSW Music Festival when a chance meeting with The South Austin Horns leader Mark Wilson (Alejandro Escovedo, Burning Spear), lead to a late night discussion about music, a shared love of vintage Stax recordings and an ever expanding collection of songs that Rees had written under the influence of beloved Southern Soul song writers like Dan Penn & Spooner Oldham. Rees said, "I'd been stockpiling songs for some time that leant in that direction, but I felt they required a horn section to do them justice. I'd put them to one side, but when I met Mark it seemed like the perfect opportunity, so I suggested that we work together".
Rees decamped to Austin for 3 weeks last year to arrange the horn parts with Wilson before joining forces with veteran trombonist Charles Dickey and Trumpet player Ricky White. The parts clicked immediately and injected the songs with the dynamic punch and power that Rees had envisioned. Additional piano and Hammond organ parts provided the finishing touches upon Rees' return to Wales.
Written and produced entirely by Rees, Heart On Fire might sound like a change of direction for an artist recently seen plucking a banjo and stamping his feet on tour with Americana greats like Steve Earle, Kristin Hersh, The Sadies, The Handsome Family and Chuck Prophet.
But as MOJO Editor, Phil Alexander commented on the 2007 album Cautionary Tales, Rees' songs have always been, "Full of simmering soul". And there's plenty of that trademark twang and tremolo here to support Rees' ever emotional and distinctive voice. While the scenery that surrounds these songs and the lyrical substance they contain is more immediately accessible and optimistic than people have come to expect from someone who's last album, Devil's Bridge mainly consisted of murder ballads, Heart On Fire is still unmistakably a Christopher Rees record. The rockabilly energy remains in songs like Warm By My Fire, while the title track and Raise The Battle Cry present uplifting gospel. Other highlights include the radio friendly Sparks Flying and the explosive In The Middle Of The Night.
With four critically acclaimed albums already under his belt, Welsh singer, song writer Christopher Rees has covered a lot of ground both musically and geographically in the last few years. Heart On Fire is another fascinating chapter in that journey. It's an album that celebrates Rees' passion and commitment towards music, love, life and his dedication to the art of serving the song.
________________________________
Christopher Rees will tour the UK from May including Glastonbury Festival and more TBC.
Please check www.christopherrees.co.uk for more details.