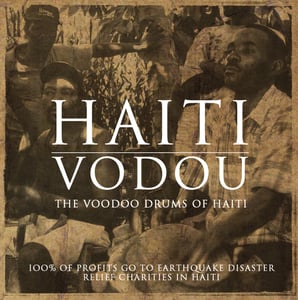 £

9.99 - On Sale
"THE MUSIC ISN'T JUST THRILLING, IT PAINTS A PICTURE OF AN EXTRAORDINARY COUNTRY".
(THE GUARDIAN)
Red Eye Music Presents
HAITI VODOU :
THE VOODOO DRUMS OF HAITI
Artist : Various
Title : Haiti Vodou: The Voodoo Drums Of Haiti
Digital Download Released Date : March 1st 2010
Physical Retail Release Date: March 8th 2010
Welsh record label Red Eye Music to release album of
Haitian Voodoo drumming in aid of the Haiti earthquake disaster.
The devastation that surrounded the recent Haiti earthquake has inspired many people around the world to dig into their pockets to help those affected by the disaster.
Cardiff record label Red Eye Music will release Haiti Vodou: The Voodoo Drums Of Haiti in order to raise money for the disaster relief efforts in Haiti. 100% of the profits from the release will go to charities working in Haiti.
In October 2002 Welsh musician Christopher Rees and Cultural Concerns director Steve Garrett travelled to the Caribbean island of Haiti on behalf of The Haiti Fund (a charity set up in Wales in 1996 to help the people of Haiti through educational initiatives).
After working with schools in the north of the island introducing new teaching methods incorporating the use of music, they returned to the capital Port Au Prince to research and record the sound of Vodou drumming. Vodou, commonly known /Anglicised as 'voodoo' is a widely misunderstood religion practised by over half the population of Haiti. Often shrouded in mystery and misinterpretation the religion and its music acts as the heartbeat of the nation providing people with the spiritual strength to survive their daily challenges.
Recorded over two weeks in down town Port Au Prince, Petionville and El Shaddai, Haut-Limbe, Haiti Vodou: The Voodoo Drums of Haiti presents a raw and riveting introduction to the world of Vodou drumming (the sacred rhythms of spirit possession) via authentic field recordings in the tradition of the great Alan Lomax who himself visited the island back in 1936.
The phrase 'mind-blowing' is often over used in music journalism these days but it can be justifiably employed here when describing the relentless energy and intoxicating intensity captured during the Vodou ceremonies. Haiti Vodou presents an exhilarating insight into the world of Vodou and will appeal to a wide range of percussionists, Caribbean music enthusiasts, scholars, and those interested in Vodou or neo-African religions.
100% of the profits from the release will go directly to the disaster relief efforts in Haiti
Disasters Emergency Committee www.dec.org.uk
Médecins Sans Frontières (MSF) www.msf.org.uk
Avaaz www.avaaz.org
and The Haiti Fund (Wales).