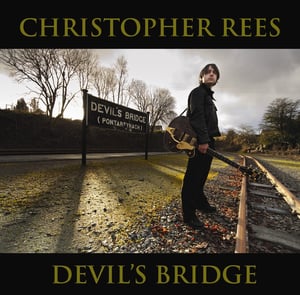 £

8.99 - On Sale
Christopher Rees - Devil's Bridge
"An increasingly accomplished songwriter in full flight". MOJO
"By far his best to date". Q MAGAZINE
"Christopher Rees has honed his narrative chops to fine effect". UNCUT
Fourth Album delivers a potent cocktail of menacing murder blues, tremulous rockabilly and intoxicating country roots.

Following his critically acclaimed 2007 album Cautionary Tales, "A genuinely roots affair…that deserves to be admired", (Fred Dellar – MOJO) Welsh singer, song writer, multi instrumentalist and producer Christopher Rees has developed his narrative storytelling even further with his fourth album Devil's Bridge.
Largely revolving around compelling tales of murder and misconduct, he also incorporates themes like curiosity, karma, confessions, mortality, sacrifice, shadows, heaven, hell, desolation, imprisonment, conviction and awakening to create his most disarmingly upbeat and immediate record yet.
With 'Prescott's Confession' he adapts a traditional Murder ballad lyric from 1833 and delivers a brand new banjo stomp, while self-penned originals like 'What Walks Outside My Window?' and 'Shadows In The Night' sound as if they could've come from a 50's Rockabilly session at Sun Studio in Memphis (a place Rees visited as part of his musical pilgrimage through Tennessee last year). The presence of veteran rockabilly guitarists Pete Mathison (Ray Davies) and John Lewis (The Rimshots) also help inject a certain vintage authenticity with a nod in the direction of Elvis, Cash, Johnny Burnette and Gene Vincent.
Katy Rowe adds her irresistible violin to the frenzied bluegrass of 'Kicked Out By Love' and drummer Dan Tilbury (The Snakes, Redlands Palomino Company) provides inspired drumming throughout. Rees stretches himself to take care of all other instrumentation including guitars, banjo, mandolin, lap steel, church organ, piano, bass, choral backing voices and chapel shaking, foot stamping, hand clapping percussion!
Devil's Bridge is clearly informed by Rees' love of Americana, in all its diverse and dynamic glory. From Rock'n'Roll to Bluegrass, Gospel, Blues, Country, Spaghetti Western, Rockabilly and Appalachian Folk it's all there. The cinematic tremolo guitars so favoured by Quentin Tarantino and David Lynch also provide some enticing atmosphere but as the 12 piece choral sections to songs like 'All Our Beds Are Made' and 'World's Fall Apart Everyday' show, there remains something quintessentially Welsh about it. Titled Devil's Bridge because the album was predominantly recorded in a mountain retreat near the village of the same name in Ceredigion, Mid Wales and because of its connotations to the subject matter, it sees Rees take another giant step forward on a journey that becomes ever more fascinating and rewarding with each new album.
CHRISTOPHER REES - DEVIL'S BRIDGE
PRESS QUOTES
"Boasting a delicious 50's twang...an increasingly accomplished songwriter in full flight". (Phil Alexander, Editor-in-chief. MOJO)
"Christopher Rees has honed his narrative chops to fine effect. All splash echo and rockabilly riffs...he makes room for fat dollops of bluegrass, country and rustic folk, including a stomping banjo straight from the Blue Ridge Mountains". UNCUT ****
"A spit and sawdust holler that's as close to a Southern hell-fire preacher as you can get hailing from Cardiff. Replete with machine gun snare fills and razor sharp guitar lines...rattles out of the traps like it was cut at Sun Studios in 1956. Very, very good". MOJO
"Bluesy folk tales of murder...dipping into the worlds of Americana and even rockabilly. By far his best to date". Q MAGAZINE
"Gothic tales and country shake-downs from one helluva singer. A volumous force of nature. This is Rees at his peak, fully fried and giving it every ounce of grit and passion". MAVERICK MAGAZINE
"Shudders between the primal loneliness of an Appalachian holler and an exuberant
Bo Diddley shuffle". ROCK'N'REEL MAGAZINE
"His home is in the Welsh hills but his heart is definitely in Tennessee. He transcends the boundaries. A heart aching gem". ARTROCKER MAGAZINE
"A rugged individualist...and distinctive musician. His warm voice, intelligent compositions and frequent journeys to the dark side should appeal to all those who appreciate intelligent Americana". (BLUES MATTERS)