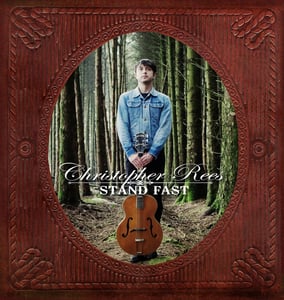 £

9.99 - On Sale
"A spit and sawdust holler that's as close to a Southern hell-fire preacher as you can get hailing from Cardiff. Very, very good". (MOJO)
Welsh singer song writer Christopher Rees returns with his 6th album, 'Stand Fast' on 18th February 2013. As the title suggests it's an album that revolves around themes of resilience, defiance and determination. It's a life affirming and arresting album that celebrates the courage of conviction with raw, roots power.
After the deep soul of his last album 'Heart On Fire' (with The South Austin Horns) which attracted great acclaim from MOJO, Uncut and Bob Harris on BBC Radio 2 among others, we see Rees re-embrace the banjo picking intensity of his earlier work while drums, bass, harmonica and that trademark Gretsch guitar twang produce a sound as strong and seductive as the subject matter.
Opening track 'Alright Squires' immediately sets the tone with a concise overview of the life of fellow Llanelli born singer Dorothy Squires. The Welsh belter's rise to success in the 1940s and tragic fall from grace in the '70s is the stuff of legend. Inspired by her compelling life and formidable character, Rees tells her story in a lyrical nutshell. Both Squires and Rees were born in the 'Wild West Wales' town - a connection that initially fascinated him. "I saw a documentary Cerys Matthews narrated about Dorothy Squires a few years ago and couldn't believe that such a huge star had come from my home town and I knew nothing about her until relatively recently", said Rees. "Her life was equally blessed and cursed. It was both glamorous and heartbreaking and I couldn't resist the temptation to write about it".
Written, recorded and produced entirely by Rees in various isolated Welsh locations, other songs like 'I Heard You Call My Name', 'Sing Out Loud', 'Raise My Head' and 'Lover Oh Lover' recall the Appalachian fire and brimstone of 16 Horsepower, together with the primal rhythms of Tom Waits and the percussive western shuffle of Calexico. 'Tonight We'll Dance' introduces a mesmerizing folk groove underneath a Duane Eddy twang that leads gently into the explosive blues of 'Fighting Time' and the gospel of 'I Will Follow'. The mariachi trumpets of 'Knock On My Door' yearn with emotion before culminating with the provocative profundity of 'The Corner'.
Over the past few years Rees has toured with and earned the respect of several legendary figures in music from John Cale to Steve Earle, Alejandro Escovedo, Wanda Jackson and Kristin Hersh to name but a few - endorsements that speak volumes about Rees, his talent and credentials.
Committed to serving the song and his own particular vision for it, Rees might confound expectations by always following his instincts, but it's that courage of conviction and that ever passionate voice that defines him as an authentic, dynamic and steadfast artist that is here to stay.
'Stand Fast' is further proof of that.
Visit www.christopherrees.co.uk or www.redeyemusic.co.uk for more details.
WHAT THE CRITICS SAY...
"Primal, febrile rock'n'roll. Righteous delivery". (Q Magazine)
"A spit and sawdust holler that's as close to a Southern hell-fire preacher as you can get hailing from Cardiff. Very, very good". (MOJO)
"Awash with the dusty wanderings, misunderstood loners and strengths in the face of adversity so common to the country spirit. Flavoured with the spice of Tom Waits-esque whiskey wisdom. Feisty and wilful". (BBC Music)
"Stand Fast finds him in a place of defiant poise and sturdy resolution. Rees has made his most complete testament to date". (Shindig Magazine)
"Welsh singer-songwriter Christopher Rees' work is strong and evocative. A superb production. Sharp and punchy (touched with a little hell-fire akin to Southern devil's blues), for this alone he earns the right to stand at top of the highest building and shout out his own praise. Once heard you will want to join him!" (Americana-UK.com)
"There is certainly a talent and experience here with a passionate voice to go with the clever lyrics. Rees is dynamic and steadfast". (Blues Matters Magazine)
"A compelling selection of dust blown wild west inspired badland tales of love and death". (Miniature Music Press)
"Among the best he has committed to public scrutiny. Dark, thoughtful songs of understanding and undeniable humanity. Rees is a striking solo performer. Stand Fast is staking it's place to be heard and understood for the powerful piece of music it is". (Lonesomehighway.com)
"Excellent". (Bob Harris – BBC Radio 2)
"With distinct, trademark notes being bended from banjos and Gretsch guitars, a unique style recognisable from the outset". (BUZZ Magazine)